This is a public issue of Enthusiastic Encouragement & Dubious Advice. Feel free to share it!
Hi friends! Before I get into this week's recommended resources, I have a couple of housekeeping items.
First, lest you think I'm completely bananas, I want to share that I definitely haven't been getting out of bed at 6:15a every day and baking. I'm lucky if I'm out of bed by 7a lately because I am tired deep in my soul and also, bed is nice. And that's okay! I liked getting up early but my body wants what it wants so I'm trying to go with the flow.
Second, it's been a while since I've written anything for Book Riot other than their Read This Book! newsletter but this month I've written two pieces. One hasn't been published yet and I'm really, really excited for you all to read it. The one that is out, however, is a list of "8 Beautiful, Black, Queer Coming of Age Stories."
Third, my mother has a GoFundMe to help her move back here to the Bay Area where the majority of our family is. It's been really hard to not be near her for many reasons but especially to support her through various medical events. If you could donate, I would appreciate it and if you can share it with your networks, I'd appreciate that too.
According to this October 2020 article from businesswire, "Leaders from business, entertainment, healthcare, public policy and technology today launched Project Healthy Minds to tackle America's urgent mental health crisis as the anxiety and isolation caused by COVID-19 drives record cases of depression and suicidal thoughts, especially among young adults." It's a nice collection of resources organized in a helpful way. If you're looking for more resources on therapy, especially articles, check out my therapy resource list from July 2020.
Resource #2: How to Rest via Autostraddle
Rest has been on my mind A LOT lately, especially since I just finished reading Rest is Resistance by Tricia Hersey, which I will definitely be including more detail on in a future newsletter. This article on How to Rest via Autostraddle is different but also good. I'm actually kind of shocked that the person wrote this article without once mentioning the Nap Ministry's work but there you have it.
"We all know that it feels good to feel connected to other people—indeed, research has even linked social connections to happiness, health, and a longer life. But a recent study suggests that our feelings of connection don't just make us feel good; they also make us do good." Read the article here.
Bonus Fun Thing: Yayoi Kusama's Obliteration Room via TateShots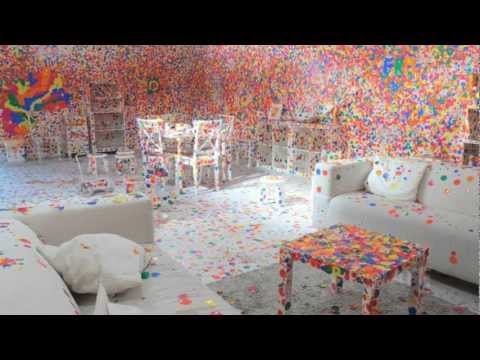 ---
That's it for this week! You can shop any books I've mentioned in this newsletter at my affiliate shop, The Infophile's Bookshop, and support independent bookstores. If you want to send me some snail mail, you can find me at P.O. Box 21481, Oakland, CA 94620-1481. If you are a subscriber and would like for me to send you some happy mail, feel free to give me your address.
If you enjoy this newsletter, here are ways to show your support for my writing and resource curation: